Dan Hoge inducted into Wall of Fame; Nearly $164,000 raised for scholarships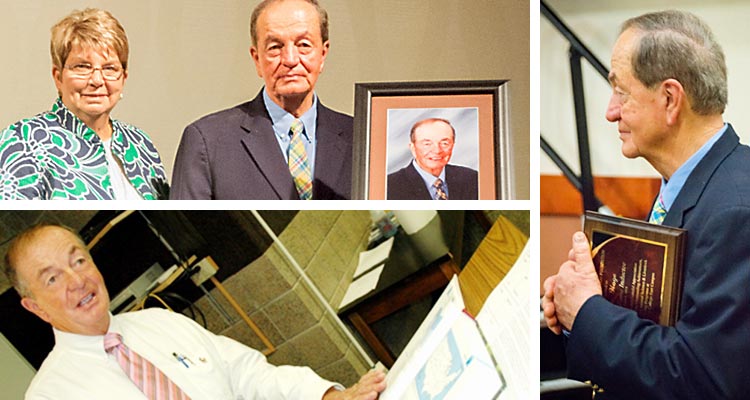 Dan Hoge, professor of animal science at Black Hawk College East Campus, recently was inducted into the Black Hawk College East Foundation's Wall of Fame.
Nearly 300 colleagues, former and current students, industry leaders as well as former inductees—including one of the five original founders of Black Hawk College, James Golby—attended the Wall of Fame event.
Wall of Fame honorees have provided outstanding service and/or leadership to the foundation and/or the Black Hawk College East Campus as well as the community. Hoge—a Black Hawk College institution with a reputation throughout the livestock industry as one of the winningest livestock coaches in the United States—certainly fulfilled the criteria.
For 44 years he worked to develop the animal science and livestock judging curriculums into one of the most active and successful community college programs in the United States. Numerous contacts Hoge has made over the years with leading livestock breeders and farm managers have provided students the opportunities to visit some of the best livestock operations in the country, exposing them to outstanding cattle, swine, sheep and goats as well as the producers themselves. His students have benefitted from the interaction, excelling in the classroom and show rings across the nation, becoming leaders in their own right as judges, breeders, producers, educators, and in some cases, serving as directors of national livestock associations and publications.
Hoge has educated and positively influenced more than 4,000 animal science students, more than 700 of whom, have participated on the Black Hawk College livestock judging teams. He has coached teams to victory for 19 combined championships at the Houston Stock Show, American Royal, National Western Stock Show and North American International Livestock Exposition as well as 40 National Barrow Show judging championships.
Paying tribute was Chanda Dowell, vice president for East Campus, who said that AG 141 and AG 285 are not animal science, they are "Hoge's Animal Science." These two courses boast such a high attendance they are held in the auditorium, his favorite place to teach, a place he calls home. Animal science in the auditorium has become a legacy experience with lectures only part of the equation.
"Students are quick to mention animal science labs among their favorite BHC experiences," Dowell said. "And Hoge's animal science labs set the standard for the hands-on education we pride ourselves on and our students seek and appreciate. Hoge's animal science class—both lecture and lab—Is a rite of passage for students, at least two generations of students."
"Impact and outreach—it's what has lead students year-in and year-out to travel to Black Hawk College to study with Dan Hoge," she said.
And livestock judging?
"It is more than just evaluating animals; it's taking classroom knowledge out of the classroom and putting it into practice. It's learning to be part of a team. It's dedication and commitment. It's winning with humility and not winning with grace. It's analytical and critical thinking. It's practicing communication and political skills. It's building self-confidence. And with Hoge's students, it's about relationships, memories and lifelong friendships," Dowell said.
"Among Dan's greatest skills and contributions are recognition and celebration. Dan drew the road map for student recognition at the East Campus," she said.
The night culminated with David Emerick, chair of the Black Hawk College Board of Trustees, announcing the renaming of the East Campus auditorium to the "Dan Hoge Auditorium."
The 2014 Wall of Fame Committee included Steve Spivey, chair; Janene Blodgett Lourdeau, Liz Breedlove, Lee Denzer, Ken Geuns, Mark Gordon, Mark Hoge, Dan Shike, Jennifer Shike, Patty Varner and Jon Wolf.

Need assistance?
We are here to help. If you need more information, please contact us.